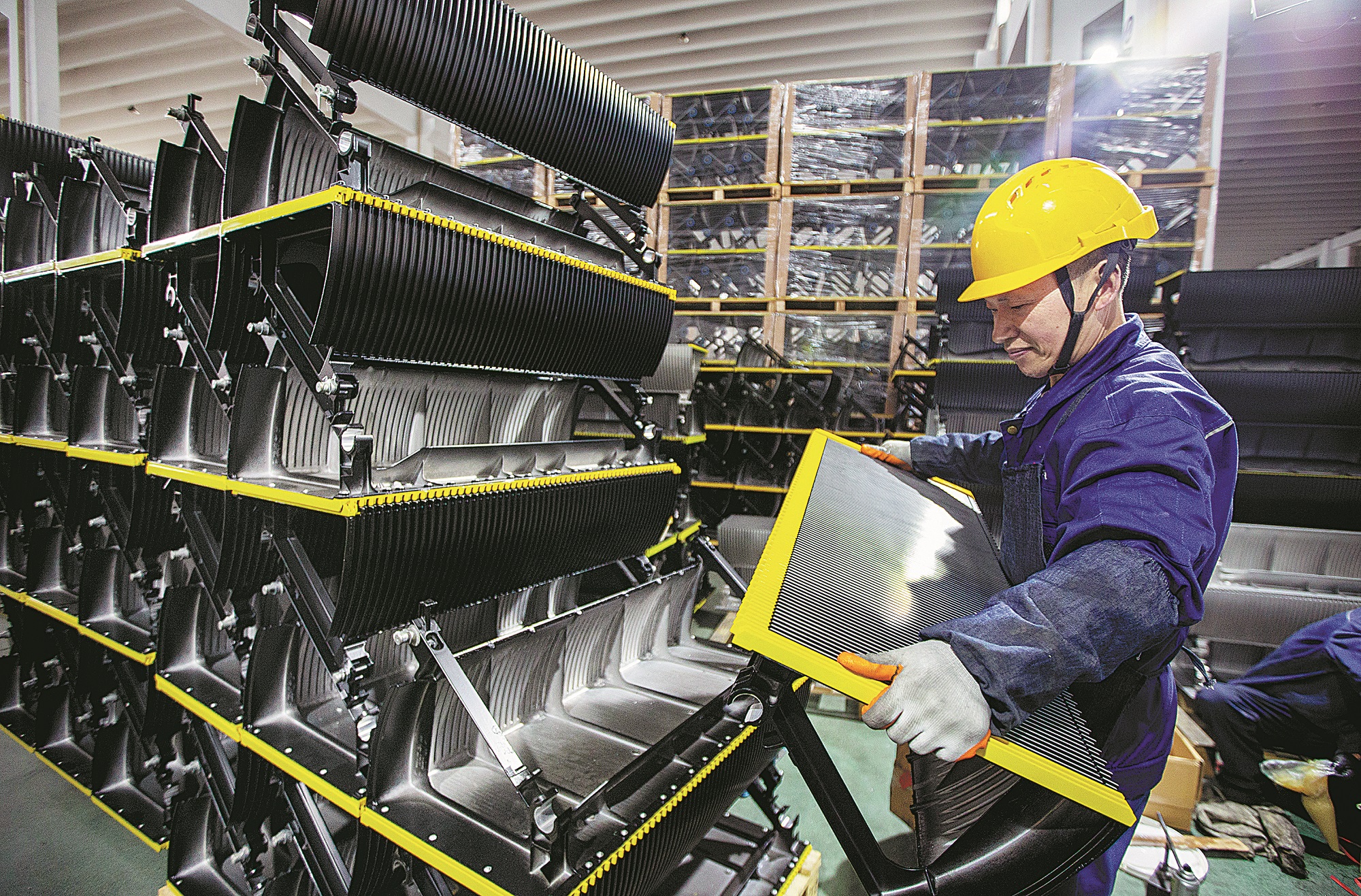 Vision charts course for high-quality development to create more jobs
China has unveiled a five-year plan aimed at high-quality development of the small and medium-sized enterprises, which are vital for stabilizing growth and creating jobs, the country's top industrial regulator said on Friday.
Liang Zhifeng, head of the SME bureau of the Ministry of Industry and Information Technology, said the new plan released by the MIIT and other 18 departments aims to trigger creativity across SMEs and create a better business environment.
He told a news conference in Beijing that the high-quality development of SMEs will provide strong support for the development of a modern industrial system, the growth of the real economy and economic development, in line with the dual-circulation model.
The new economic paradigm takes the domestic market as the mainstay with domestic and foreign markets complementing each other.
According to the five-year plan, SMEs are set to witness steady improvement in their overall development quality, innovation capability, specialization level as well as the operation and management levels by 2025.
By then, the government will have better served the SMEs and created a better business environment, the five-year plan stated.
Major targets mapped out by the plan include above 18 percent increase in SMEs' per capita operating income, over 10 percent annual growth in small industrial enterprises' research and development spending and above 10 percent annual growth in the number of patent applications.
By 2025, the country aims to develop 1 million innovative SMEs, 100,000 SMEs that specialize in niche sectors and 10,000 "little giant" companies that focus on a market niche and master key technologies with a strong innovation capacity and a big market share.
Under the plan, the country will take steps to make its policies more efficient and targeted, implement tax policies conducive to the development of SMEs, further lighten the burdens of SMEs, build a system to effectively serve the SMEs and level the playing field.
More efforts will also be made to prevent and stop monopolistic behaviors that exclude and limit the participation of SMEs in fair market competition, crack down on all kinds of unfair competition and guide financial institutions to increase support for SMEs.
Wang Yanqin, deputy head of the MIIT's SME bureau, said China's SMEs have maintained steady growth this year, as the operating income and profits of major industrial SMEs grew by 21.5 percent and 30.4 percent year-on-year respectively during the first 10 months.
Facing a complicated domestic and international situation, Wang said SMEs also face many difficulties and challenges, including rising production and operating costs, insufficient orders, labor and logistical issues.
Looking ahead, Wang said the ministry will make efforts to better implement the new plan as well as the recently released documents that stressed boosting economic development, lessening the burdens on SMEs, and introducing more supportive policies to boost SMEs' future development.
Dong Xiaoyu, a senior expert at Zhongguancun Development Group, said the current difficulties faced by SMEs are caused by multiple factors, including COVID-19, rising raw material prices, high cost of logistics, insufficient orders and the electricity crunch in some parts in China.
Dong said the recently released documents will help the government to have a better understanding of the current situation of SMEs and focus on increasing support for SMEs, which will help stabilize the economy.